Apply to LMU
Ready to take the next step?
Submit your application below as an Undergraduate, Graduate, or Pre-College candidate. We welcome students interested in joining our diverse community of scholars and becoming a part of our enriching educational tradition.
Undergraduate Deadlines
Applicant Decision Plan
Application Deadline
LMU Financial Aid Application/FAFSA Deadline
Admission Notification
Scholarship and
Financial Aid
Award Notification
Deposit Deadline
Early Decision
November 1
November 15*
Mid-December
Late December
January 12
Early Action
November 1
January 15
Mid-December
Early February
May 1
Early Decision II
January 8
January 15
Mid-February
Late February/Early March
March 15
Regular Decision
January 15
February 1
Early March
Early April
May 1
Regular Decision (transfer)
Rolling Admission
February 1
February (rolling)
Early March
Based on Date of Acceptance (rolling)
* Due to the delay in the FAFSA being released by the Department of Education, EDI applicants will be invited via email to complete the LMU Institutional Need Based Application
Graduate Deadlines
LMU offers more than 90 Masters, Doctoral, and Certificate programs. Learn more about our application deadlines. For questions, please contact the Graduate Admission Office at graduateadmission@lmu.edu or 310.338.2721.
Admission Standards
Admission to LMU is competitive, and the applicant review process is guided by the same philosophy as our education: we consider the whole person. Along with strong academic performance, thoughtful essay responses, and positive recommendations, LMU also takes the time to learn more about you, your achievements, and community contribution. Our thorough evaluation results in a competitive selection of qualified students who are ready to become leaders, entrepreneurs, and unique individuals with and for others.
For Graduate admission and alternative academic options, follow up will vary based upon each program.
Application Status
Once you apply for undergraduate admission, you will receive instructions for logging into the LMU Application Portal where you can monitor the status of your admission application. You will also be notified when your application is complete. Please be aware that submitting documents through the Common Application is a two-step process. First, your school submits your forms to the Common Application. Then, we import them in to the LMU system for review.. During peak volume periods, the process can take up to a week.
The application status for Graduate programs and alternative academic options will vary based upon each program.
Connect with Us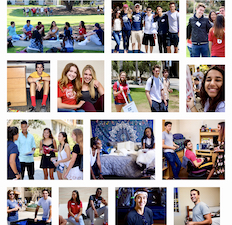 Visit us on-campus or online to get additional information or answers to questions you may still have. Speak to students about their LMU experience and learn more about our LMU Lion family.
Undergraduate Application Options
Thank you for your interest in LMU. We welcome your application for 2023.